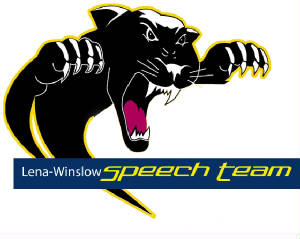 Welcome to the Lena-Winslow Speech Team Web Site. It's been a while since its last update, a situation that will be handled very soon.
Click here for a description of the 13 speech categories

Click here to go to the Speech Menu at the IHSA Web Site
Click here to see state-wide tournament results through speechwire.com.
Click here for the latest weather forecast
Click here to see why being on a Speech Team is what colleges look for
Click here for speech coach Karen Baker's views on competition